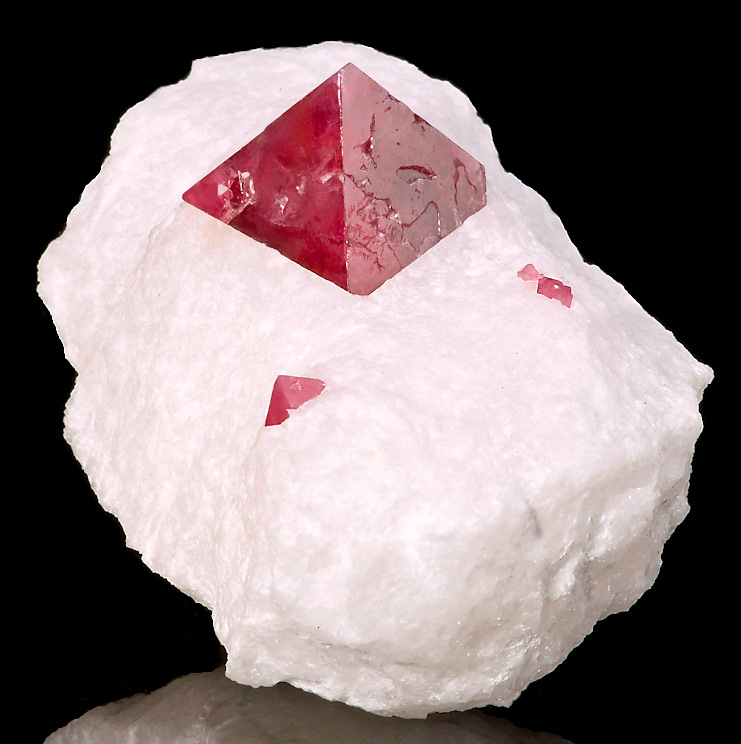 In 2016, Jewelers of America (formerly called the National Association of Jewelers) removed sardonyx as the second birthstone of August and replaced it with the beautiful gem spinel.
As we discussed last month, spinel has a very interesting history in that in ancient cultures the deep red ruby spinel variety was often mistaken for actual rubies and even used in some crown jewels, including the Black Prince's Crown.  Spinel comes in a variety of colors and here we will look at 10 interesting facts about this birthstone.
As well as the aforementioned Black Prince Crown Ruby, the stone known as the Timur Ruby (named after the Tartar conqueror Tamerlain) is actually a 361 carat red spinel!

Spinel forms cubic crystals like a diamond, but is not as hard (8 on the Mohs scale) as a diamond (10 on the Mohs scale).  This has led to some colored varieties being mistaken or mismarketed as fancy color diamonds, hence the term "spinel diamond."

This gemstone comes in a variety of colors ranging from colorless to black including brown, blue, dark green, violet, pink, lavender and red.

The most popular colors are pink, hot flame-orange and red.

In addition to being the companion August birthstone to peridot, spinel is commonly found in deposits of peridotite, which is made up of the minerals pyroxene and olivine.  Peridot is basically gem quality olivine

A synthetic variety is produced for both military and commercial use because it looks like glass, but is considerably stronger and more resistant to pressure.

Although we have referenced some very large examples of this birthstone throughout history, it is rare to find one that weighs more than 2 carats.

As with other gems, such as fancy color diamonds, the value of the stone is determined by the deep richness of the color.  The deeper the color, the more valuable the stone.

While spinel costs half or less-than-half the price of a ruby, it is becoming more prized each year because of both its rarity and the fact that it has fewer inclusions, resulting in more brilliance in a faceted stone.

It is mostly mined in Sri Lanka and Burma and, as well as being common in peridotite, it is also found close to corundum deposits containing rubies and sapphires.
If you have questions about this birthstone, other semi-precious or precious gems or want to talk to us about making you a custom piece of jewelry, stop by our store or give us a call at 301-574-4400.
Sources:
http://www.gemsbrokers.org/gemstone/gems_and_gemology/spinel_myths.htm
https://en.wikipedia.org/wiki/Spinel